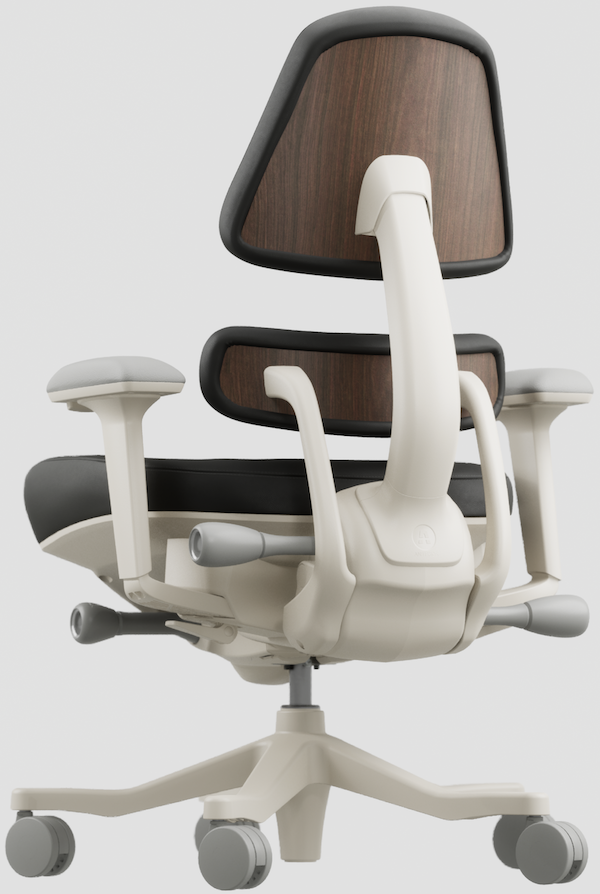 Our top-of-the-line office chair with premium options.
Our top-of-the-line office chair with premium options.
Current Configuration:
Color: Quartz
Fabric: Onyx
Base: 5-Spoke Base
Arms: With Arms
Regular price
Sale price
$2,700.00
Unit price
per
Sale
Sold out
WANT TO PAY USING AFFIRM? FINISH YOUR CHECKOUT PROCESS AND YOU WILL BE ROUTED TO AFFIRM TO SETUP YOUR PAYMENT PLAN.
Gabriel boucle is our standard textured stretch fabric while Port is an environmentally conscious synthetic leather that is phthalate free.
View full details
YOUR CUSTOM ANTHROS:
Anthros is a science-backed investment in your future self: your health, wellness, and productivity. Anthros is the only chair in the world that promises the world's most comfortable sitting experience and is guaranteed to improve posture, reduce pain, and increase performance (or your money back).
FEATURES
Two-part back system (patent-pending) adapts to an individual's body shape

Lower back supports the pelvis to prevent slouching and induce lumbar curve
Upper back allows for shoulder retraction to prevent neck and shoulder pain
Contoured foam seat with patented pressure-relief cutouts and proprietary technology. Proven to be the lowest pressure seat cushion by university testing, offering unparallel comfort
Tilt reduces fatigue and provides a relaxed, resting position without compromising posture
GUARANTEES

LOVE IT OR LEAVE IT 30-DAY GUARANTEE

Love your Anthros or return it for free in 30 days. We are so convinced you will love your Anthros that you can try it for 30 days and return it for free if you're not completely satisfied with your results of improved posture and decreased pain.

Free Shipping

Anthros offers free shipping on all standard website orders. Product will be dropped off at the consumer's front door, boxed unassembled. Minor product assembly will be required upon receipt.

Please note that "Free Shipping" is only applicable to delivery inside of the United States not including Hawaii & Alaska.

Free Return

Return shipping from anywhere in the United States is always FREE. If you are not 100% satisfied with your purchase from Anthros, you can return your eligible item(s) for a full refund within 30 days of purchase. Please visit Anthros.com/returns to begin your return process.

12-YEAR LIMITED WARRANTY

This is how confident we are that you will not only love the results you see in how your body feels in your Anthros chair, but it will also stand the test of heavy use! We offer a no questions asked warranty for any defects or quality issues that may arise with your chair. Feel the difference with Anthros at no risk to you.

DOWNLOAD WARRANTY

UNDER 5 MINUTE ASSEMBLY

Simply scan the QR code included and walk through the simple unpacking and assembly with our "how to assemble" video.

POSTURE PROMISE

Guaranteed to improve posture within 30 days or you can return your chair for a full refund. The Anthros chair was designed to adapt to individual shapes and sizes to support the body in the right places and maintain good posture for hours at a time. Think of your Anthros chair as a posture trainer by keeping your body in an optimal position, correcting muscle imbalances over time.

PERFORMANCE PROMISE

Guaranteed to be the lowest seated pressure office chair on the planet or you can return your chair for a full refund. According to independent university testing on standardized bench testing on measures related to comfort, Anthros outperformed the competition on every measure.

MADE IN THE USA

As one of the few office chair companies in America, Anthros is manufactured right in the heart of Grand Rapids, Michigan. Our local craftsman have decades of experience making high-quality furniture and are putting their heart and soul into Anthros. We are committed to fix with World's sit, all while supporting our local economy and the American workforce.
SPECS

4 Spoke Variation Shown

Upper Back Height: 22"
Upper Back Width: 15.1"
Lower Back Height: 7"
Lower Back Width: 15.1"
Arm Width: 16" - 19.6"
Seat Width: 19.8"
5 Spoke Base Width: 18"
Seat Depth: 15.2" - 18.3"
Arm Height: 7.7" - 11.8"
5 Spoke Seat Height: 17.1 - 20.7"
Tilt Angle: 0° - 16°
SHIPPING

Current expected delivery time is 4-6 weeks as we work through our backlog of pre-orders. Delivery will return to 7 days (+ ship) after pre-orders have shipped.